This is for motors with load dependent *excessive* top end ticking/knocking; beyond simple rocker adjustment or "normal" R* engine noises. Initially it only happens under heavy loads, like going up hill at speed, and gets worse over time until it happens all the time, even under light load on throttle and stops when you let off the throttle. At first I thought it was due to
rocker arm end play
, until I came across this video for Rocker Lockers: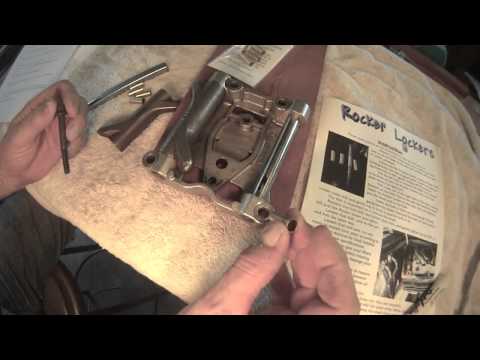 Since our motors have the same basic design, I tested my rocker arm, and sure enough it does the exact same thing: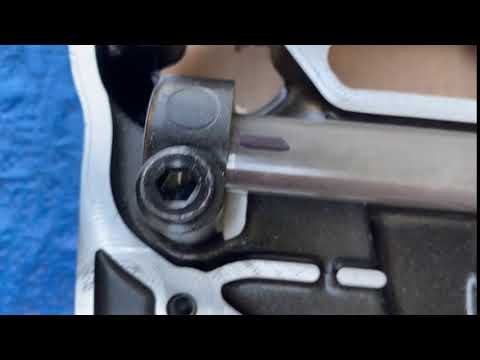 So I reached out the maker of Rocker Lockers. His name is Steve and he's a real good guy who's more than willing to help us out and come up with a version for the R*. I sent him a spare rocker tower I had and he came up with a prototype insert for it.
​
The only problem is, even though he drilled out the bolt hole two steps larger, from *11/32 to 23/64 to fit the insert, it still was not able to get to the notch in the shaft, leaving a
very
small amount of play: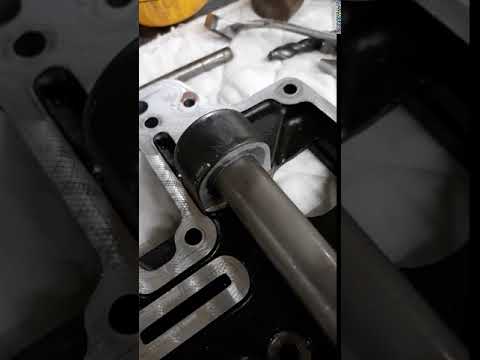 Ideally we wanted no play, so to take up the extra play would mean drilling out a third step up to an even larger diameter, the problem with that is, doing the same thing on Harleys has caused some towers to crack, so we don't want to go that route; though he does say the R* tower has more materials and appears to be forged, rather than cast like the Harley towers. [Any thoughts on that?]
He said some people have tried using LocTite, in addition to the Rocker Locker, but the LocTite does tend to wear out over time, so he's not comfortable with that either. Another option some Harley guys have used, is to drill through the tower and shaft, then tap the hole and bolt it in place. But that requires too much effort and isn't really a do it yourself solution, and it's also prone to cracking. So scratch that idea.
I told him, ideally, it should be a solution that anyone of us could do in our driveway, without complicated tools. It's what initially attracted me to the idea of the Rocker Lockers; all you need is a handheld electric drill. As it is, he said with the two step drilling, ideally it should be done on a drill press, to insure the holes are perfectly straight, but it could be done by hand. I figured I could find a local machine shop if I want to play it safe.
So that's where we are. Steve asked me to post about it here and see of any of you have come up with a better solution. If not, at this point, I'm willing to try out his current R* version, with the minimal play in the hope that it's quiet enough. [It's got to be better than it is now.] The only thing is, it means permanently altering my rocker tower, which leads to another issue…
Last year I actually scored a hell of a deal on a brand new rear cylinder tower $35, which definitely helped quiet things down, but my front cylinder is still very noisy. So a couple months back I decided to bite the bullet and ordered a new front tower for $240. As it turned out, there were none left in the US, so it had to be shipped from Japan; the only problem was, it made just as much noise as my old one, so I returned it. That itself wouldn't be an issue, accept it was the last one in Japan too. So that's it folks; there are no new rocker towers available for the R* 1700. None. [Unless you get lucky and find one hiding on a shelf or are interested in one with noisy rocker shaft play] I tell you, those Rocker Lockers are looking more and more attractive by the moment, which is why we really want to come up with something that works.
Sow what say you? Has anyone come up with a better solution or have any better ideas?
*I asked him about using metric sizes, but he said it would require him to retool to make the inserts, so I guess SAE holes aren't the end of the world.