When I bought my 2001 RS a couple of years ago, it had already been very substantially customized / upgraded / rebuilt by its previous owner, who, besides becoming a friend, did a fantastic job at turning it into a sexy bagger: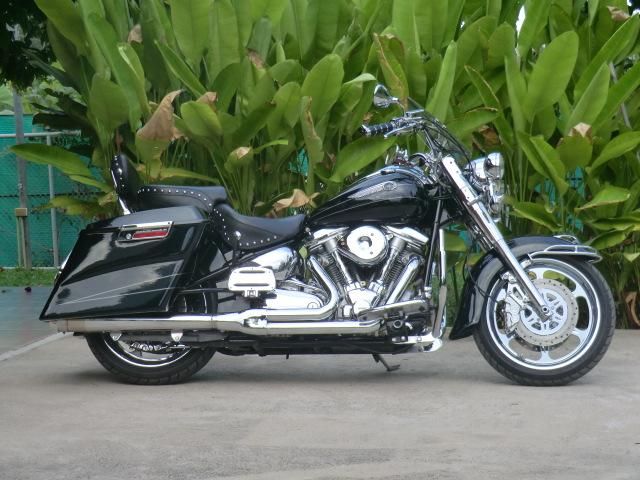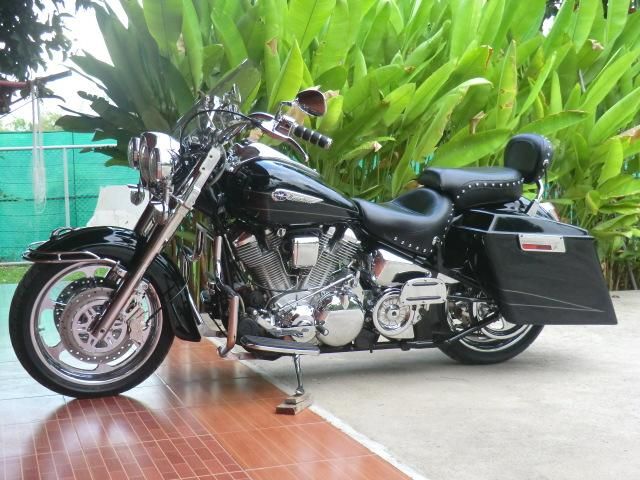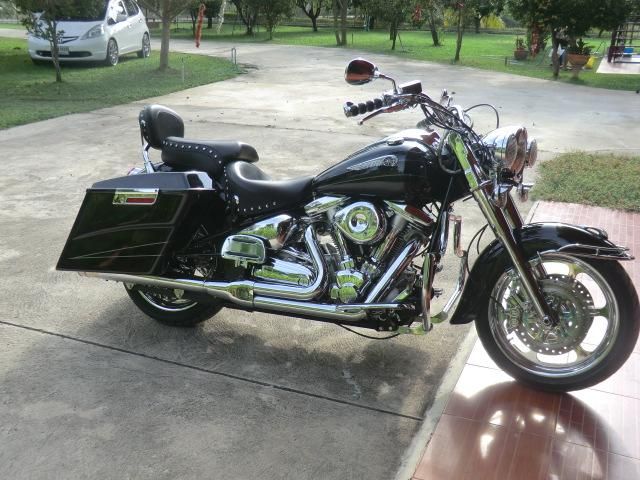 Non-exhaustive list of the mods / rebuild at time of purchase:
- New swingarm bearings and spacers
- New progressive suspension (rear shock)
- New neck bearings
- 18in RC Components Wheels, Rotors and rear pulley (front and rear)
- PM calipers (front and rear)
- Barnett clutch
- New lines and fittings
- Dynatek Dyna3000 ECU
Engine:
- Speedstar ported cylinder heads
- Speedstar HC pistons, rings and pins
- Speedstar HP oil pump drive gear
- L&D HP Camshafts
- Baron ported intake manifold
- High torque Warrior starter and Warrior starter relay
- various upgrades of the stock carb that I won't list because I've changed it
It was a real beauty but not at all what I had in mind, so I started to chop it down to create my dream bobber...Here is a pic that summarizes the evolution: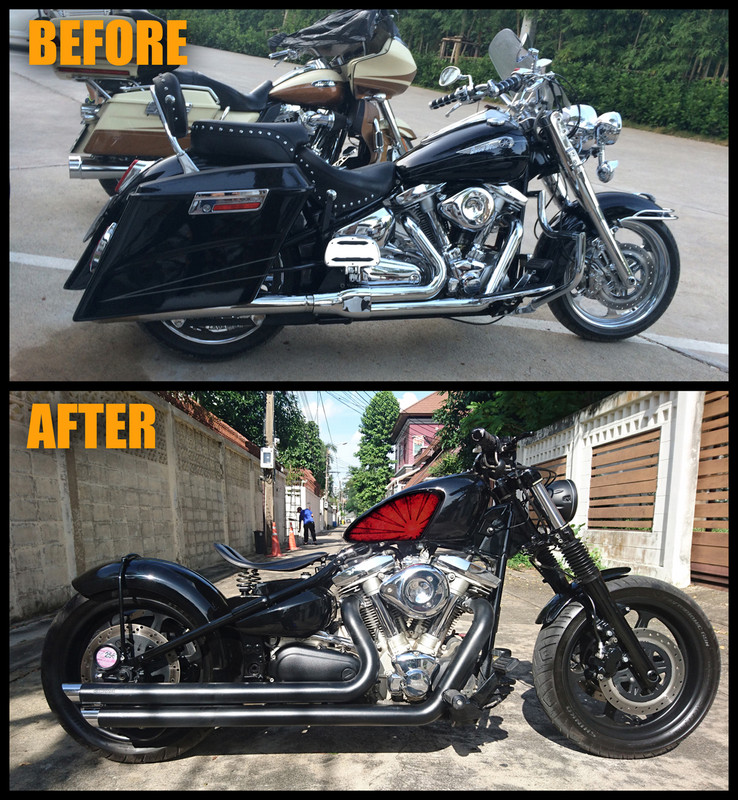 I probably forget a bunch of stuff, but here is what I have at the back of my head:
- shaving of the frame horns to mount a spring solo seat by MotherRoad customs
- Swing arm mounted rear fender from LedSled Customs (that I chopped a bit too short, I get sprayed when I ride in the mud and I'll have to extend it by a few inches when I got time...)
- Cobra exhausts
- Mikuni HSR 42 carburetor
- Motor mounted Dynatek coils
- Drag Specialties Legacy Lynx sportster tank
- PTFE ST/ST braided fuel lines
- Pingel hi-flo petcock
- custom made drag bars
- Baron Risers
- Ditched the fork tines
- Custom shorty front fender
- PM controls and grips
- I put back the stock front calipers, but kept the PM calipers at the rear...
- Arlen Ness mirrors
- new throttle assy
- custom brake and clutch lines
- custom side license plate
- new motor mount ignition block
- new wiring harness (the old one was an absolute mess and I had plenty of new connections to make so starting with a clean slate was better...)
- Motogadget speedo
- Some custom painting or course and lots, lots of powder coating
- various seals and parts replaced by genuine Yam OEM ones
Here are the money shots: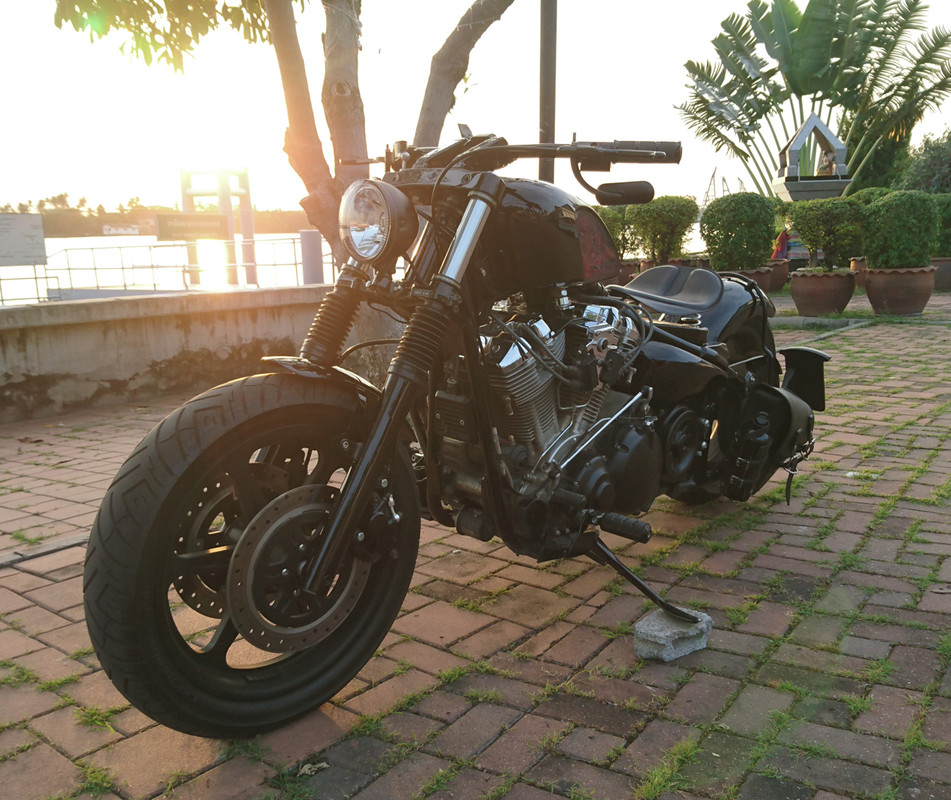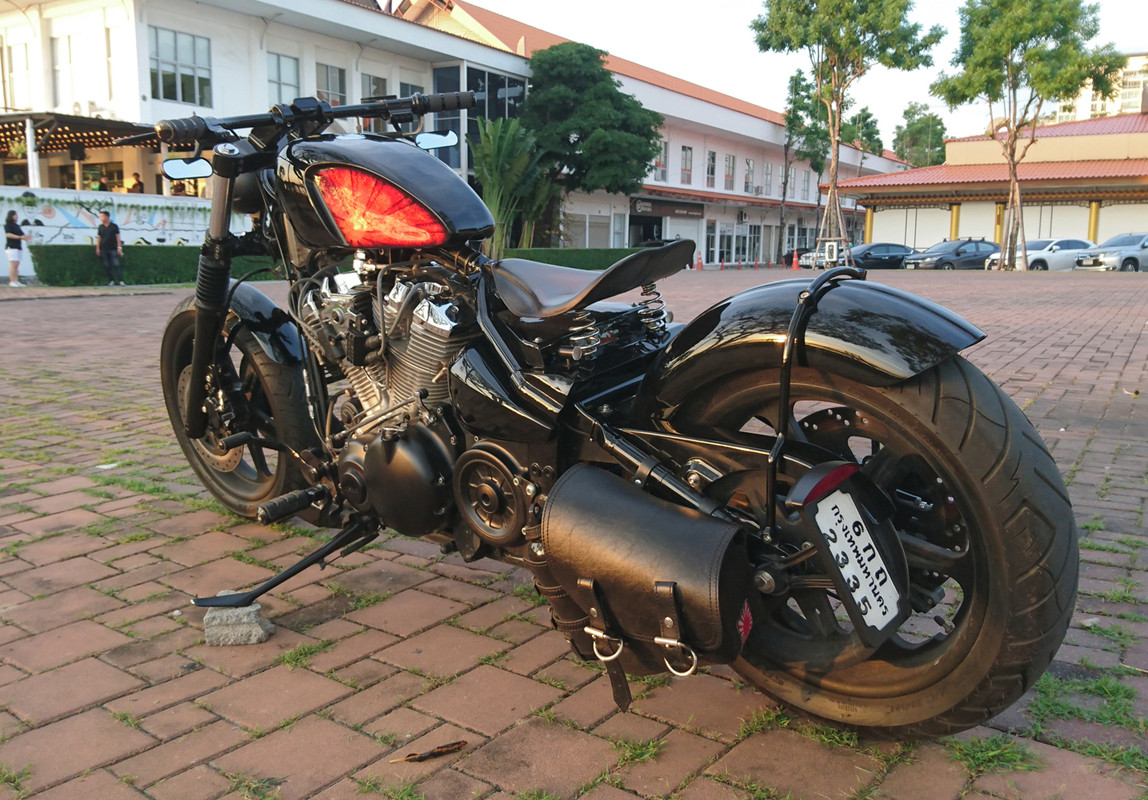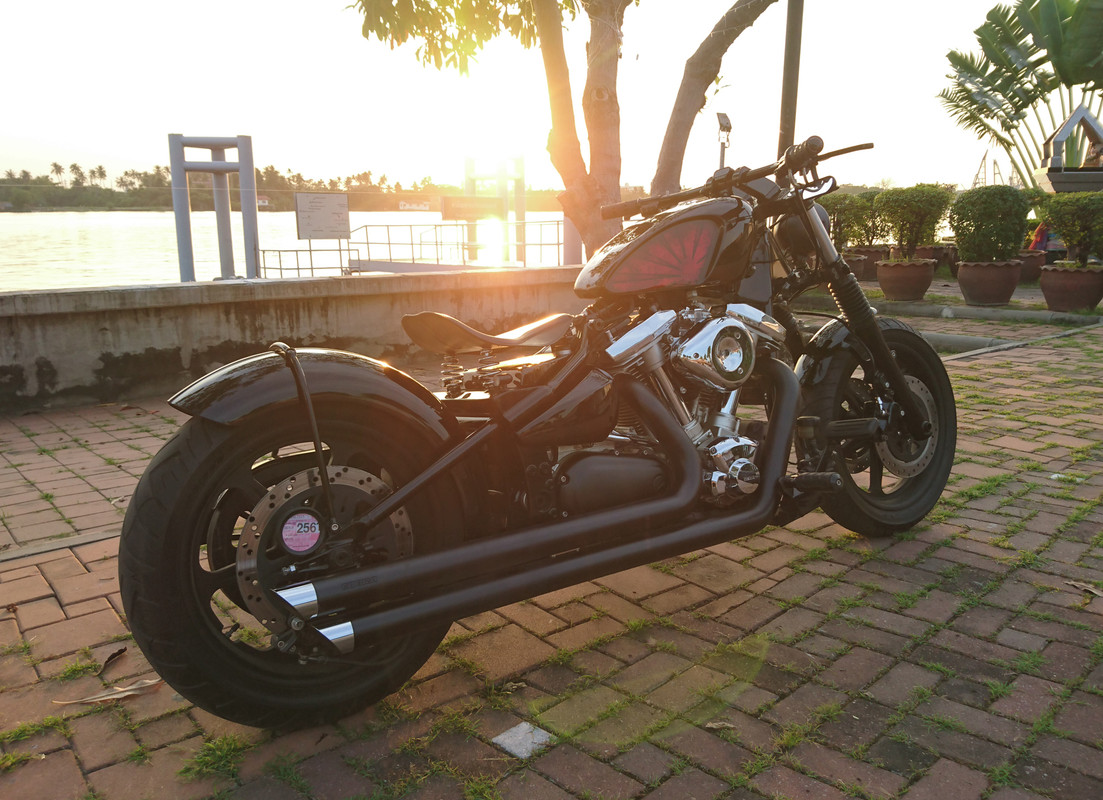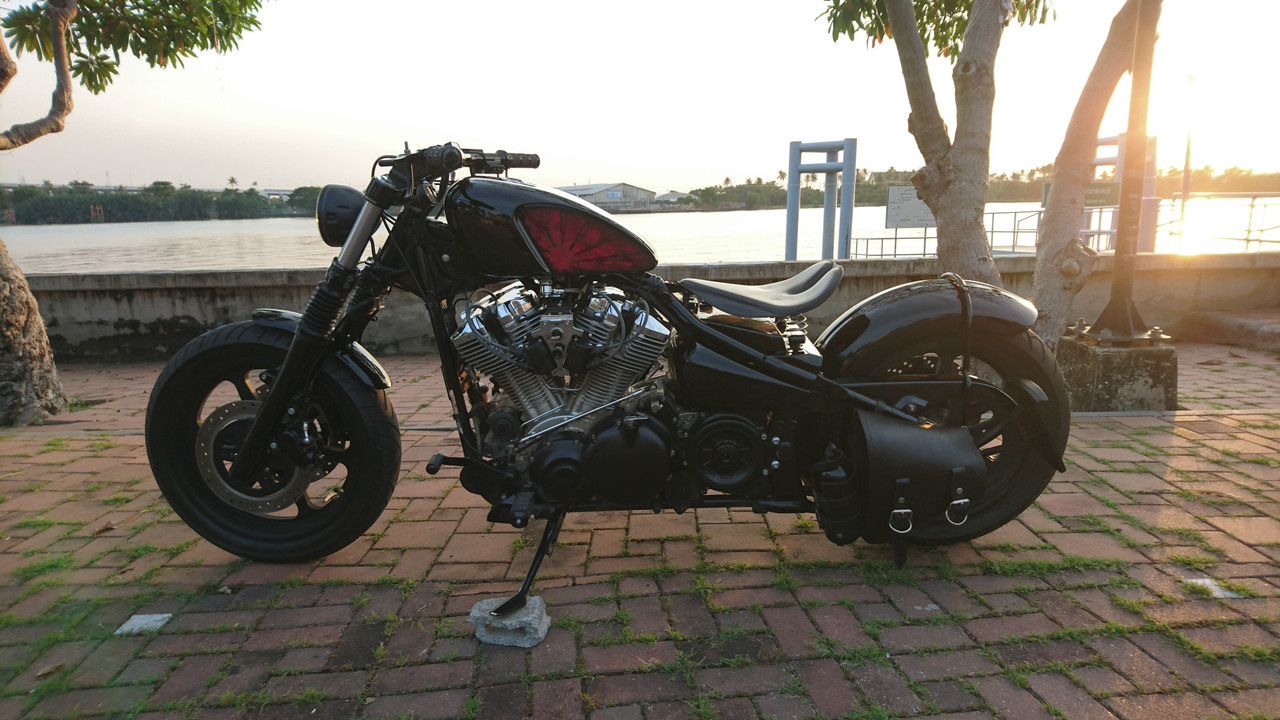 These pics were taken right after the end of the build, in the meantime I've changed a few things:
- changed the headlight, that one broke (the bracket thread was in aluminium and the mounting screw in steel, it didn't take a lot of hard riding and vibrations to strip it...). I installed a powder coated housing of the same size with a LED daymaker instead
- Changed the teardrop air cleaner for a round one because I installed a S&S Customs oil pressure gauge and the teardrop was in the way
- Changed the side license plate for a bigger one. The one on the pic wasn't of the legal size and I was getting too many fines from the Thai police...
- Swapped the gel battery for a lithium Antigravity one
That's pretty much it
. I've made plenty of long rides since I've finished it, so although it doesn't look very comfortable, it is actually a pleasure to ride. I'm a big dude (6.2, 200lbs) so reaching for the drag bar is not a problem at all, and may be I have an iron butt but I can ride 300 miles per day several days in a row without discomfort. That or I just don't know what it is to ride a really comfy bike